Cluster Box Units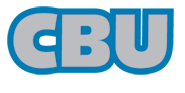 TOP CBU RESOURCES:
CBU Information Sheet | Jensen Mailboxes Catalog | Document Library | CBU EasySpec
JENSEN's Cluster Box Units (CBU) are outdoor freestanding, front-loading mailbox units that are used for centralized mail delivery in residential, industrial or institutional applications. They comply with all current USPS 1118F specifications.
Built tough…reinforced with heavy-gauge aluminum, including doors, compartments and inner and outer cabinets increase durability and security. 300 stainless-steel hardware and hinges provide the CBUs strength. Robotically welded cabinet and seams add to the overall integrity and weather resistance of the design.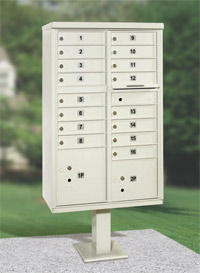 Customize…a full line of accessories such as key cabinets and keepers, door sizes, locks, parcel lockers, outgoing mail slots, kits and custom colors options plus a variety of pedestal mounts.
Freestanding Cluster Box Units come in 8, 12 and 16-compartment tenant configurations and a 13-compartment unit sized for business tenants. JENSEN's CBUs are easily accessible from the front through master door panels designed for mail carrier ease and come with two parcel lockers.
Features Include -
Each unit features heavy-gauge aluminum including doors, compartments and inner and outer cabinets for durability and security
Cam locks with spring loaded cover
Accessories, kits and custom color options
Tough, corrosion-resistant painted surfaces
Heavy-gauge aluminum components